This article is the first of a series outlining work carried out by STERIA for the Center for Gas and
Liquids Monetization (CGLM). Currently, two studies have been completed that assess the range of
development options for Western Canadian natural gas and Natural-Gas Liquids (NGL).

The following chart shows actual natural gas production in Western Canada and the US Appalachian
Basin from 2008 to 2020 and potential outcomes of where Western Canada gas production could go in
the future:

– Can Western Canada production duplicate Appalachian growth from 2008 to 2020?
– Is the resource to support this level of growth available?
– Is Western Canada natural gas development competitively disadvantaged relative to our major trading
partner, the US, by Carbon Policy differences?
– What does a downside case look like?
– Can the Western Canada gas industry survive?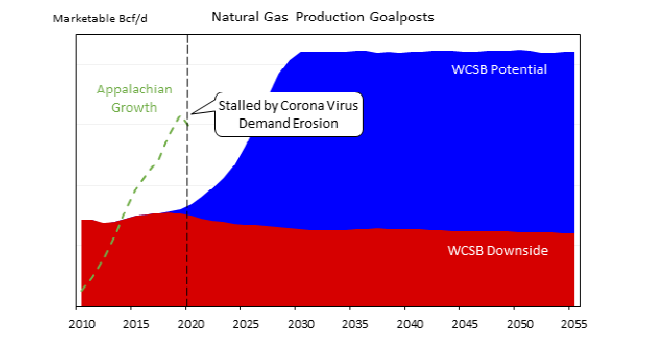 What can we take away from the two Studies?
– Western Canada is the fourth largest holder of gas resource in the world with some 950 Tcf. Appalachia
is similarly sized to Western Canada with 1,250 Tcf (technically-recoverable remaining natural gas)
– From 2008 to 2020, Western Canada gas production has shrunk while US Appalachia gas has increased
to 32 from 2 Bcf/d.
– Why is Western Canada shrinking and US Appalachia growing? It is the same product and generally the
same market.
– What could the impacts on the Canadian economy be if we could encourage development of our natural
gas and NGL resources?
– What could the impacts of non-competitive Carbon Regulations do to production potential? What do we
need to do differently to capitalize on our advantaged resource position?
– The Potential (upside) case reguires $1.3 trillion of direct upstream investment; LNG is the main driver of
growth with exports of 21 bcf/day
– The Downside case includes 3.2 bcf/day of LNG exports partially offsetting some of the non-LNG
production decline to to 9.0 bcf/day
– Legacy gas is not economic to develop and in severe decline in both cases

Stay tuned as we explore these analyses and issues over the next few months.
For more information please do not hesitate to reach out to STERIA:
– Bill Armstrong at [email protected]
– Bob Child at [email protected]
– Simon Mauger at [email protected]